Managing E-Commerce
WooCommerce Tutorials
How to Setup Google My Business Listing
Embed YouTube Property Listings
Help Desk Ticketing Set Up
FaceBook Accepting Admin Requests
Quick & Dirty Podcast Tips
4 Ways to Make Emails Better
What's the most popular Content Management System (CMS)?
By far WordPress is the top Content Management System (CMS). Netcraft reports over 75,000,000 websites are published on WordPress. 34% of the internet is powered with WordPress; that's called a clue. Making this open source CMS, what we like to call, "the 800 pound gorilla".
What's the difference between marketing and branding?
Branding is who you. Marketing is what you do with your brand. Marketing continuously utilizes different tactics and strategies but branding is what sticks. Think of branding as the DNA of your business. How you distribute the DNA is marketing.
I don't have a blog. Should I still use WordPress?
WordPress websites do not have to contain a blog at all and are still the #1 suggested CMS for just about any business, organization or mission.
What's the difference between a mobile application and a mobile responsive/friendly website?
First things first, mobile-friendly is the same thing as responsive. This means a site has a design to accommodate both desktops, tablets & mobile phones. Having a mobile responsive website does mean that anyone on a smartphone or tablet can easily view and navigate your site. However, mobile applications for smartphones/tablets are entirely separate applications, developed in different environments and not accessible on a browser. Websites can't be found in the Google Play Store or Apple App Store, whereas mobile applications are.
What the heck is a Progressive Web App?
Progressive Web Apps (PWA) are app-like websites, with functionality to download to your home screen like your other mobile apps. PWA's aren't required to be downloaded in the Apple or Google Play Store but can be. One of the biggest benefits of a PWA is that if the app is updated by developers, users don't have to update the app. The updates are automatic. PWA's are typically faster than web applications and can offer push notifications. They can also be run on your phone or in the browser of your choice.
Does my business need to be on social media?
More than 90% of all businesses find that social media marketing is one of the most cost-efficient ways to gain share in the marketplace. The cost of entry is low and visibility is high. The trick is finding the platform(s) where your potential buyers are and focus there. It's not effective to attempt and create a market on a platform versus choosing a platform where your market is already present.
How often should I update my website?
Google loves new content, so more is better. At a bare minimum, it's recommended you update at least once a month.
Do I need a blog on my website?
No, you don't have to have a blog on your site. Just know a blog is one of the easiest ways to continuously add content that Google is looking for to rank your site. Brochure sites without a blog typically require a paid advertising campaign and usually don't rank organically.
How much should a social media manager cost?
You may find a low-cost intern that does a decent job, but a great social media manager can cost you $30,000-$100,000 depending on their experience and efficacy.
What should a social media manager do for me?
A social media manager should work alongside a CMO, helping to create campaigns that support the overall marketing goals. This includes creating content, media that supports that content, interacting with users, building relationships with followers and responding to any outreach. Social media managers should always be on the lookout for new trends and capitalize on them, on behalf of your company.
What are branding guidelines and do I need them?
Branding guidelines and style sheets are the specks that outline, at the very least, your logo, logo variations, font(s) and color schemes. This sets the standard for both digital and print marketing and advertising. A robust branding guideline could dig deeper into your brand and include missions, goals, brand voice/tone and mood boards that set the standard for media that represents your company. Branding guidelines can even outline how the logo is to be used in different media.
How much should I spend on Google Ads?
This depends on the industry you're in and your competition. Google will always recommend an amount to be spent but you can set a budget that is lower or higher.
How much should a logo design cost me?
You get what you pay for here. You can get a logo for as cheap as $5 on sites like fieverr.com. Typically these are less than amazing logos but can get the job done. For logos like Nike, even something as simple as the swoosh could cost around $100,000. If you are a small to a mid-sized company you are probably looking at anywhere between $1,000-$10,000 for a great logo. When you work with professional designers, you should expect many logo files. This includes full color, black, white and multiple file formats for all applications (jpeg, png, pdf). You will also be provided with all elements (favicon, text only, full logo), and all editable files (psd, eps, or ai).
What's Customer Reputation Management System (CRM)?
CRM's are systems (software) whose entire goal is to help you cultivate a long-lasting relationship with leads and customers and drive sales. CRM's will allow you to develop a repository of your customers, move them through a sales process and know where they are located in the sales process at any given point.
How long does it take to get on the first page of Google?
It could take one day or it might never happen. Getting on the first page of Google for some may happen overnight if you are lucky enough to have a site with a product/brand that's the first in your industry. For others, competition is steep and it will take a combination of time and money to make it happen.
Should I even have a website?
Um HELL Yes. Unless you want to be left behind in the digital age, a website is a non-negotiable, much like paying the utilities for your business.
Do I need a smartphone application for my business?
This is totally dependent on your business and budget. Smartphone application development isn't cheap and usually requires ongoing support.
What's the proper YouTube description outline for best SEO practices?
YouTube is a great way to gain SEO value when you include the proper elements in your video description. You would miss out on a golden opportunity if you uploaded a video to YouTube and didn't optimize the description for SEO. Check out the 8 ways to capitalize on the SEO value YouTube can give your brand here: YouTube, The Underutilized SEO Powerhouse.
How can I improve my blog's SEO rankings?
SEO can be tricky for blogs since you have to write for both your customers and for the Google spiders. There are great tools out there like Yoast (for WordPress sites) that will help to ensure your article has what it needs to appease the Google 'gods'.
What does it cost to have a website built?
Websites range in cost from $100 to six figures. Even if a cheaper site is designed beautifully, you are going to have a paperweight for a website if the developers didn't create it with proper SEO standards.
It's important to ensure your website developer is creating a site with not only a fantastic UX (user experience) but develops the site to be Google 'friendly.' There are always things in the back end that will help or hurt your SEO rankings.
What's the difference between a mobile-friendly site and a smartphone application?
Mobile-friendly websites are still "just" websites, but ones that adjust to different screen sizes for the best user experience. There is nothing to download when it comes to a mobile-friendly website; you simply access it from your browser of choice. Smartphone applications are a different beast, as they are totally separate from a website and can interact with a user's phone, have different functionality than a website and can only be accessed through downloading on either the Google Play Store or the Apple Store.
843.478.4578
We've got plenty more content like above but you don't have all day to read anyways … let's connect!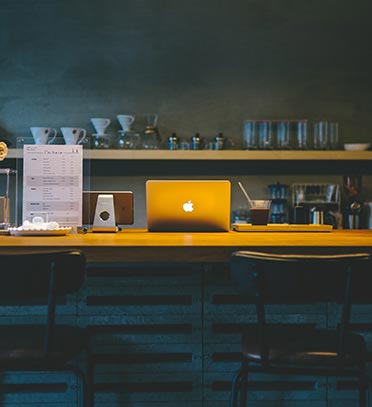 Got an Idea? We would Love to Chat
A digital-first approach to strategy and creative