Originally Published: Feb 20, 2020
Last Valentine's Day, before the emergence of COVID-19 and the onset of our new coronavirus reality, there was a surge of "anti-love" Valentine's Day marketing campaigns. Although we haven't seen many anti-love campaigns this year (we get it – the world needs all the love it can get right now), we wanted to highlight some of our favorite campaigns in this category from last year.
These campaigns were clever, creative, and emphasized the power of humor within advertising. We hope this ride down memory lane brings a smile to your face and a laugh to your heart.
From international fast food powerhouses to breweries and even a handful of zoos, we wanted to share some examples of brands that executed "Anti-Valentine's Day" marketing last year and how their offering broke through the "love and happiness" messaging that's so often norm during this often tumultuous holiday.

The Fast Food Giant

Burger King realized there is no wrath like that of a woman (or man) scorned and offered free Whoppers on Valentine's Day to those in select cities who brought in a printed photo of their ex.
The promotion was in conjunction with the new flick, "Birds of Prey," which features a significant breakup between the misunderstood Harley Quinn and her ex, The Joker. Burger King's "Anti-Valentine's Day" marketing campaign broke through the stereotypical "love" themed tactics and earned media coverage in USA Today, Refinery 29 and NewsWeek. By capitalizing on the petty nature of breakups, major brand awareness was generated for the film and the fast food chain.
The Zoo Crew
Speaking of breakups, folks in Texas were given the opportunity to name a cockroach after their exes at the San Antonio Zoo's 'Cry Me A Cockroach' event. Participants paid $5 to name a cockroach or rat after an ex and then rest soundly knowing the vermin would become a snack for the zoo animals. Aside from receiving major media coverage from CNN and ABC News, the zoo's social media team streamed the feedings on Facebook Live, earning more than 8.3K views.
While the marketing team at the San Antonio Zoo helped participants ease tension by poking fun at their ex's name, the marketing team at DoorDash took things a step further by helping lucky contenders turn the memory of an old relationship into their favorite snack.
The Food Delivery Service
This year, DoorDash partnered with famed tattoo artist, Mister Cartoon, to turn lemons into lemonade…or more specifically, turn an ex-lovers name into a cartoon slice of pizza.
The food delivery mammoth conducted a survey and learned over 63% of Americans that have tattoos from a previous relationship regret it, and of these, more than 50% would like to get that covered up with another tattoo. With those findings, DoorDash held a contest where winners could get their old ink covered up with something they know will never leave them. Their favorite food. According to David Bornoff, DoorDash's Head of Consumer Marketing, "Love comes and goes, food's going to last forever."
Through helping heartbroken lovers reverse the mistakes of their past, DoorDash not only "gave back" to their community, their campaign was also featured on people.com.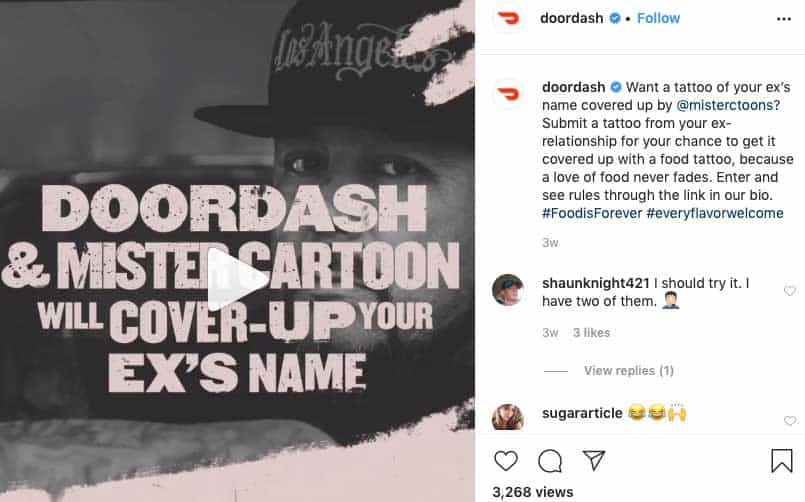 The Brewery With A Cause
On a more positive note, the folks at Coors Light wanted to focus on a totally different kind of love. That between man and his best friend. As the self-proclaimed, "beer of skipping cuffing season," Coors Light was inspired to help those who weren't looking for a traditional Valentine, find a different kind of love this year.
Those who submitted proof of adoption from 2/4 – 2/21 received $100 to go toward the cost of adopting a pet. Not only did Coors Light earn positive media attention from Fortune and USA Today for their creativity, they also received recognition for giving back to a worthy cause.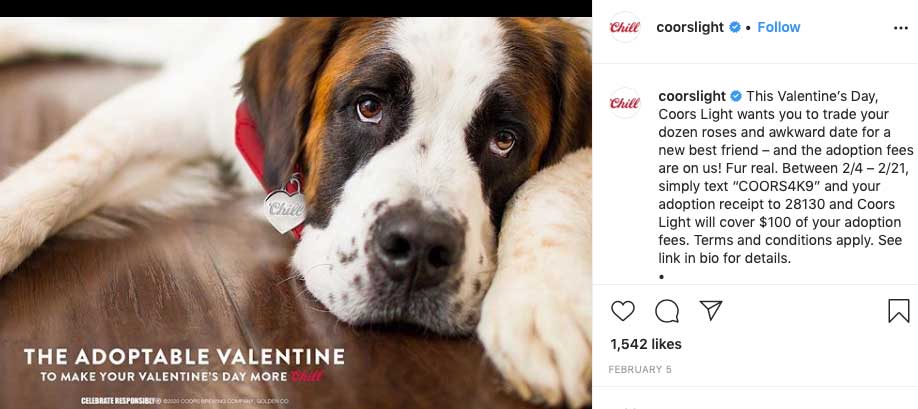 Where's The Love?
On a day that's sole focus is to celebrate love, why have so many brands chosen to take the opposite approach? Simply put, they're giving different audiences what they want. Outside of the box marketing campaigns are leveraging people's desire to acknowledge the holiday without having to celebrate it in the traditional way.
From newly dating couples who feel like it's too early to celebrate, to those who are single and feel targeted by the holiday to those who simply want to give the consumerism of the holiday the middle finger, marketers have hopped on the "Anti-Valentine's Day" bandwagon and have seen positive outcomes.
As displayed by Burger King, the San Antonio Zoo, DoorDash and Coors Light, you don't need a love-centric message to get people talking (or buying) on Valentine's Day. Sometimes it just takes a great idea, a well thought out strategy and tactful campaign execution.
Looking for creative marketing strategies for your brand? Let's talk!