In the off chance you may have been living under a rock the past month, there's this thing, a virus actually, commonly referred to as the coronavirus or COVID-19. When doing a simple Google search of COVID-19, I happened upon a large red box at the top of the search engine results page that read, "SOS Alert."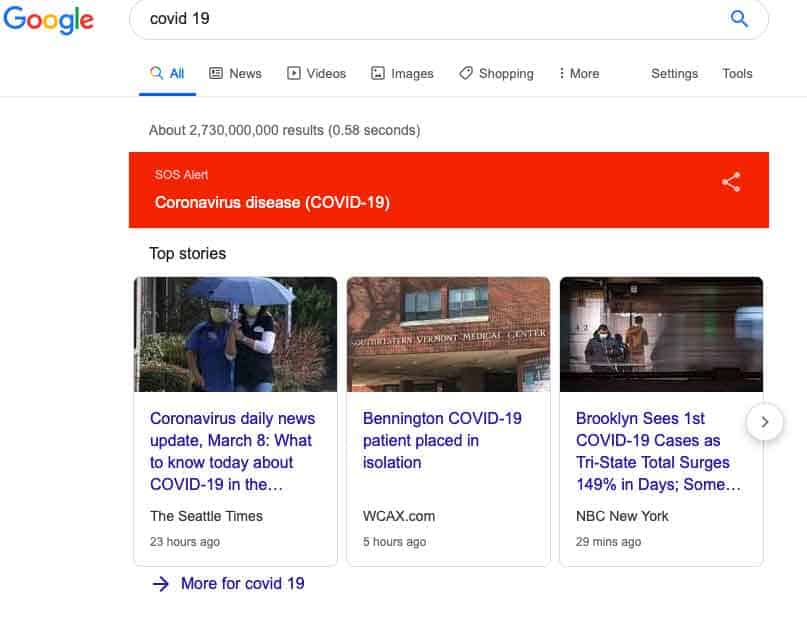 Although somewhat alarming, this alert is not surprising. For the past month, it's been nearly impossible to turn on the TV, surf the web, travel, shop, dine out or go to work without being reminded that COVID-19 is lurking around every corner. Worldwide, there has been supply chain disruption, tanking markets and halted travel, causing many industries and brands to take a financial beating.
Conversely, some brands are seeing astronomical increases in sales. While some of these brands are taking the more "ethical" approach of strictly sharing the facts, others are cashing in on the coronavirus.
Advertisers exaggerating claims about the effectiveness of their products is nothing new, however, it does seem extra ruthless to use fear-based marketing to take advantage of fearful consumers. As expected, a handful of brands within the "health and wellness" space are guilty of this.
According to Vox, some air purifier manufacturers have made claims, stating their systems can offset the coronavirus. Other manufacturers are saying they're testing to see if their products may be useful against the coronavirus.
While visiting air purifier manufacturer Airpura's website, I found an image of a man laying on a gurney, being pushed by two people in hazmat suits. The text overtop the image read, "The UV600: Powerful Protection Against the Coronavirus. Overnight Shipping Available." Other headlines I read regarding the Airpura UV600 stated, "Coronavirus Removal Rate: 99.99%" and "How An Air Purifier Can Kill Airborne Viruses Such As The Coronavirus."
A testimonial from a grateful customer read, "Thank you for expediting this as we need it ASAP due to the local coronavirus in our city." The Airpura UV600 costs $899.98.
Dr. Yogi Goswami, one of the founders of Molekule, another air purifier manufacturer made similar claims about his product, stating, "I am very confident that this technology will destroy coronavirus. Although we have not tested it on that virus itself, we have tested it on viruses of that type."
Face masks are another product that have been flying off shelves in an attempt to protect against the coronavirus. From catwalks to sidewalks, face masks have been everywhere. During Paris Fashion Week and Milan Fashion week, influencers and fashionistas alike were seen coordinating their face masks to their street style. Even spotted were leather and Chanel face masks. The fashion world saw an opportunity to cash in on coronavirus and made their move.
Maddy Scarf, founder of the Australian based TECMASK, a company that sells face masks with fashionable designs, shares how her business has boomed since the coronavirus hit.
"A number of retailers have reached out wanting to stock our product. We're now in over 300 retailers across Australia and New Zealand."
About her product Maddy says, "We're trying to protect their health. Being able to help people in a time of need is what we enjoy doing."
The World Health Organization (WHO) advises that the only time healthy people should wear a face mask is when taking care of someone suspected of having the coronavirus. WHO also states that if you do wear a mask you must know how to use and dispose of it properly.
Amazon has begun restricting the sale of products like face masks, hand sanitizer and disinfecting wipes on its third-party Marketplace platform in an attempt to stop price gouging and deceptive marketing.
Amazon sent a note to sellers, stating:
"You are receiving this message because you are currently selling, or have previously sold, products such as disposable face masks, hand sanitizers, disinfecting wipes/sprays, isopropyl alcohol or related products. We have implemented more stringent requirements to sell these products in our store and as a result, your offers have been removed. We are not accepting applications to sell these products at this time."
In recent weeks Amazon has been making an effort to thwart the machiavellian practices of sellers who are profiting off of destruction and chaos. The company has removed millions of products for deceptive marketing surrounding those trying to cash in on the coronavirus. Similarly, eBay banned people from selling face masks and hand sanitizer on its platform.
Ethical Brands
While some brands are cashing in on the coronavirus, disinfectant brands like Clorox and Lysol have only shared detached messaging regarding the coronavirus.
When asked by AdWeek, a spokesperson from Clorox shared, "We are providing educational information on our website and responding to people on social media regarding prevention tips. What we don't do is market to fear."
Lysol's website offers facts on the coronavirus and safety tips from the CDC before mentioning that, "Specific Lysol products have demonstrated effectiveness against viruses similar to 2019 Novel Coronavirus (SARS-CoV-2) on hard, non-porous surfaces."
Staying Safe
As a digital marketer, I am no expert on contagious diseases, however, I can share the CDC's recommendations on staying safe.
Clean your hands often.
Avoid close contact with others who may be sick.
If you are sick, stay home.
Cover coughs and sneezes with a tissue or the inside of your elbow.
Wear a face mask IF YOU ARE SICK.
Clean and disinfect frequently touched surfaces in your home daily.
If you have additional questions, please visit the CDC's website.