If you weren't born between the years 1995 – 2015, (We think it's safe to assume no kindergarteners are reading this), there's a strong chance that you have heard of the TikTok app but are uncertain of what it is. If this is you, don't fret. We're here to chat all things TikTok. From the simple, 'What is TikTok?' to the more complex, 'How do people use TikTok for marketing?' we will cover what you need to know.
What is TikTok?
TikTok is a social video sharing app, owned by Beijing-based tech company, ByteDance. Users can film, edit and share 15-second videos and add special effects, fun filters, music, animation and more. Similar to other popular social media apps, users can follow, like and comment on videos within the app.
Who Uses TikTok?
As of November 2019, TikTok had reached more than 1.5 billion downloads, however, the majority of its users are considered "young." Worldwide, 66% of TikTok users are under the age of 30. In the U.S. 60% of TikTok's users are 16 – 24-year-olds.
Although TikTok is still a fairly new platform, brands have begun using the app to connect with their younger audiences. Not sure if your brand would benefit from TikTok? Check out how other brands have successfully made a splash and see if it would make sense for you to follow suit.
How Are Brands Using TikTok?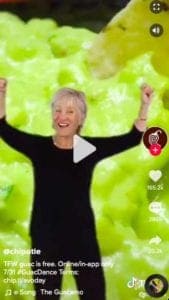 While TikTok is still somewhat of a foreign concept to the 25 and above crowd, hashtags are not.
Hashtag challenges are a main feature of TikTok's community and are exactly as the name suggests. A hashtag challenge asks TikTok users to do a somewhat obscure task, document it on TikTok and include a specific hashtag within the caption.
For example, Chipotle shared a hashtag challenge on National Avocado Day, asking TikTok users to imitate a popular meme about the fruit and sing and dance to the "avocado song" via the #GuacDance challenge. TikTok users who accepted this challenge earned a free side of guacamole with the purchase of an entree. Within a week it became one of the highest performing branded challenges on TikTok.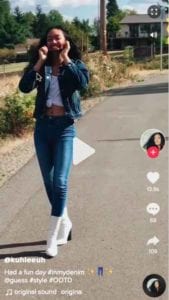 User-generated content (UGC) is content created by people who use your products and post about them on social media. Gathering UGC from your audience doesn't have to be difficult. Sometimes it's as easy as asking your followers to share a photo or video of themselves with your product.
Authenticity matters and if your prospective customers see your current customers having an enjoyable and authentic experience with your brand or product, they may be more likely to try it or buy it themselves.
Clothing brand, Guess, partnered with TikTok and used a hashtag challenge to create UGC. The challenge prompted TikTok users to film themselves wearing Guess denim and adding Bebe Rexha's song, "I'm A Mess," to their videos.
Guess was the first brand to launch a UGC challenge on TikTok and they successfully demonstrated how effectively TikTok could spread product-based awareness. Aside from that, this content clearly displayed "real people," having a positive experience in the clothing, potentially prompting others to want to buy clothing from Guess.
We're all for burrito bowls and cute jeans, however TikTok isn't just a platform to pedal fast cash and stylish denim. Nonprofit organizations are jumping on the platform to generate awareness and funds for causes with deeper meanings.
A 61-year-old farmer may not sound like the typical TikTok user, however Chris Franklin uses the app every morning to record his farm animals saying "good morning." From chirping birds to precocious billy goats, Franklin shares clips from his farm/charity, the Caenhill Countryside Centre, to promote the organization, which teaches kids about farming and animals. Franklin's videos are regularly met with thousands of likes and views, generating awareness for his cause.
Youth Music, a charity supporting young people and fostering their love for music, has also benefited from using the app. The organization's #MusicShapedMe campaign, which asked users to share videos of the positive impact music had made on their lives, garnered 15 million engagements in less than a month.
TikTok Expectations and Predictions
Throughout its short life span, TikTok has taken the social media world by storm and it doesn't appear to be slowing down anytime soon.
TikTok ran its first official ad campaign in 2019 and within the last six months the platform has seen an influx of ads. Next year, TikTok is expected to offer self-serve ads, like popular social platforms Facebook, Instagram and LinkedIn do. Currently marketers have to work with a sales team to get ads up and running.
We can also expect to see increased competition in this space. Byte, a video looping app from the people who brought you Vine is currently in beta testing and Firework, an app that lets you take both horizontal and vertical videos in one shot is quickly growing.
Should You Be Using TikTok?
While we can't say with 100% certainty whether or not your brand should be using TikTok, we can leave you the facts and let you decide for yourself.
According to MediaKix, these are the stats you should know.
Only 4% of U.S. social media marketers use TikTok.
TikTok's average engagement rate is 29% (far higher than the average engagement rates on Facebook and Instagram which are both below 5%).
29% of TikTok users open the app daily.
TikTok users spend around 52 minutes on the app daily.
TikTok has plans to focus on safety and security in the upcoming year.
Alleged Security Issues? We've got the 411 on that!
Whether or not using this app is the right fit for your brand or business is your decision, but there is no time like the present to start researching for yourself! Time is of the essence…TikTok…TikTok…TikTok…