If you're involved in social media marketing, you've heard of influencers. They're everywhere. On your stories, "Discover" feed, sponsored ads, sometimes even in your DMs looking for a collaboration.
With the influencer marketing industry on track to be worth up to $15 billion by 2022 according to Business Insider, the numbers speak for themselves. Influencer marketing is racking up serious numbers for businesses' ROI nationally, and saving money on direct marketing as well.
Let's define influencer marketing and discuss its benefits, key platforms, and how to get started + in on all the action.
What is influencer marketing?
Influencer marketing is a marketing strategy that focuses on using a leader within your niche to drive your brand's message to your audience. This alleviates the pressure on you to market directly to consumers, and instead, you hire influencers to be the spokesperson.
How would Influencer Marketing benefit your business?
Influencer marketing helps your brand develop deeper insight into your consumers by boosting observation and analysis of engagement
Here are three key benefits for your social media manager to consider:
More Leads
Influencer marketing taps into "word of mouth" leads
Every influencer post about your product or service means exposure to multiple prospects who may have been unfamiliar with your brand up until that moment
Building Trust Via Person-To-Person Interaction
People trust other people. Period. Viewers are far more likely to pay attention to media mentions, product reviews, and user-generated content that is from another human (or a quirky animal in some cases) versus your brand itself
Check out this tool for using social proof (a psychological phenomenon where people conform to the actions of others under the assumption that those actions are reflective of the correct behavior) to increase conversions here
Insight Directly From Those Who Know Your Audience Best: Influencers
Influencers know what content is engaging, what falls flat, and what interests an audience
By measuring, observing, + analyzing your consumers via their interactions with influencers, you will gain valuable information that will help you form better traditional marketing campaigns + higher-converting digital marketing in the future
On which platforms is influencer marketing most prevalent?
The key social platforms for influencer marketing are Instagram (94%), TikTok (52%), and YouTube (52%).
Each platform is excellent for marketers to reach their target audience. However, deciding which is best for you depends on your business's specific goal. That's why we've broken down their features for you, so you can decide which platform is best suited to you + your unique brand.
Instagram
BEST FOR: Campaigns involving a physical product AND/OR Building a following
Instagram is viewed as the cream of the crop for influencing today. Here's why it is such a popular marketing strategy choice:
800 million monthly active users
While the user base is smaller than Facebook, it is more engaging + a more effective approach for brands to be seen + heard
** HIGHEST interaction rate compared to all other platforms ** according to Quintly. SAY WHAT?!
65% of Instagram posts that perform the highest feature products, making it an incredible avenue for sponsored posts
The audience expects to see product promotions and therefore has no problem seeing them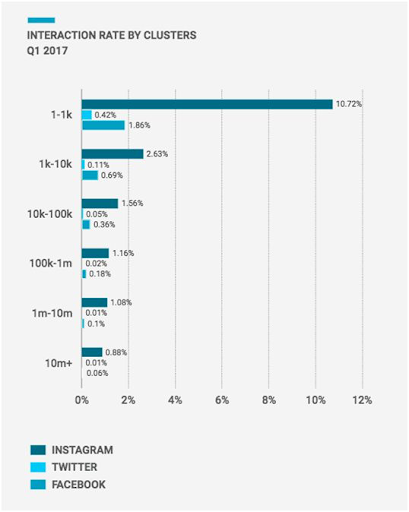 TikTok
BEST FOR: Creating short, fun, scroll-stopping content your audience wants to connect with
Video-based content. The more entertaining, the better
Videos are short, so this offers a great opportunity for quick information: tips, demonstrations, bullet-pointed info
Great opportunity to show the personality behind your brand
This is NOT a place to promote traditionally; this IS a place for storytelling and having a little fun
YouTube
BEST FOR: Sharing the nitty-gritty of your brand AND/OR fostering strong ties with your audience
A whopping 1.5 billion logged-in users
Comparable to brands making informal deals with a TV channel to promote their products
Brands do not have to pay money directly to YouTube with influencer marketing
Similarly, YouTube does not provide systems or assistance that are standard with formal advertising
70% of teen subscribers say they relate to YouTube creators more than traditional celebrities
How can you start winning big with Influencer Marketing?
Don't know where to start? Don't worry. Here's a step-by-step guide on finding the right influencer(s) for you + your badass, unique brand.
Step 1. Set Realistic Goals
Think about what you want for your brand or product.
Here's a couple of common goals to get you started in your brainstorm.
 Reach a more youthful audience
Generate authentic product or services reviews that are easily found
Create genuine brand content marketing
Step 2. Define Ideal Influencer. Be picky!
What to look for:
Posts QUALITY content consistently
Engages with followers
Fits with your niche and brand
Step 3. Find the Right Influencer for you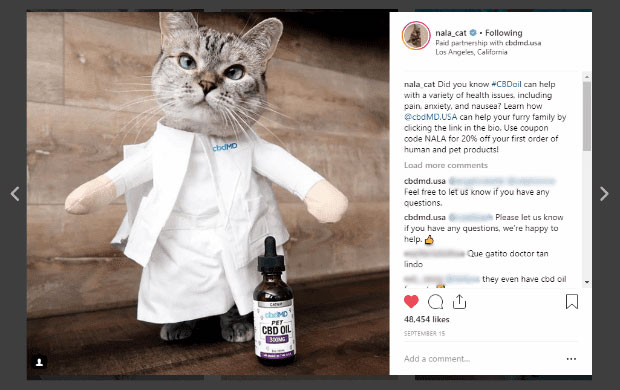 Will you choose a person or an animal as your influencer?
This is Nala; she's a big CBD kind of gal.
How about some tips for finding the right influencer FROM an influencer?
Influencer Gary Vee gives a three-pronged method for choosing the right influencer:
Evolve by assessing their effectiveness and make changes based on their results
Evaluate their audience to see who they're actually reaching
Assess engagement to gauge the level of genuine interest. Percentage: # of interactions/number of followers
Final Notes – You Got this
Thanks for tagging along for our Influencer Marketing + social media marketing journey! From one social media manager to another, you know that finding the right influencer can be a tricky game of scouring profiles, searching out keywords, researching through blogs + endless Google searches.
Fortunately, there are beginner guides like this one to finetune your marketing strategy, cut through the noise, find the right info, + begin the journey towards finding the right influencer.
Sites worth checking out to make your process a little easier:
BuzzStream | FollowerWonk | PeerReach
We'd love to soundboard further thoughts, questions, and ideas with you! Hit us up. We're Atlanta's best digital marketing + social media marketing agency, and we also tell slightly above average quality jokes.