Originally published: Jan 2020
What It Means For Businesses and Consumers
Think back to the last time you tried a new restaurant. Before you even took your first bite, chances are you read online reviews about the restaurant on a platform like Yelp, TripAdvisor, Google or even Facebook.
While reading or leaving a review for a business may not seem like a huge deal, it is. Reviews have the ability to make or break a business. Reputation is everything & some businesses have gotten desperate to try to make themselves look better. How? By silencing less than stellar customer reviews.
In an effort to combat this the Consumer Review Fairness Act (CRFA) was passed by Congress in 2016.
"Reviews on where to shop, eat, or stay on websites like Yelp or TripAdvisor help consumers make informed choices about where to spend their money. Every consumer has the right to share their honest experiences and opinions of any business without the fear of legal retaliation," stated Senator Brian Scharz (D-Hawaii).¹
According to the Federal Trade Commission (FTC)², the CRFA makes it "illegal for companies to include standardized provisions that threaten or penalize people for posting honest reviews."
Basically, a company can't include a statement in their terms and conditions that punishes someone for leaving an honest negative review.
Enforcing the CRFA
So, the CRFA makes it illegal to stop customers from sharing negative reviews online but what actually happens to the companies who get caught in the act?
In 2019 the FTC brought administrative complaints³ against five companies for violating the CRFA. For three companies, LVTR LLC LVTR (Las Vegas Trail Riding), National Floors Direct, and Staffordshire Realty, the results of their actions backfired big time.
Now when people visit these Yelp business pages they're greeted with a consumer alert on behalf of Yelp (on top of seeing negative reviews).
The alerts warn that "This business may have tried to abuse the legal system in an effort to stifle free speech." (Yeahhh, that's a little bit of a major red flag to most potential customers).
To add insult to injury, all five companies had to tell customers they couldn't take legal action against them and had to accept the reviews. Like they should have in the first place.
Now is not the time to jeopardize your brand's reputation
We're living during the COVID-19 pandemic and online consumer reviews carry more weight than ever before.
As spending has continued to decline, people are even more conscious of where they choose to spend their hard-earned money.
In 2019 a negative review may have been disappointing, frustrating, and occasionally damaging for a business. In 2020, every single review is high stakes.
One bad review obviously won't take down a business in 2020. Responding inappropriately might. Businesses today need to be incredibly mindful of how they respond to negative reviews while still appearing attractive to customers who are on the fence about buying.
The Right Way To Tackle Negative Consumer Reviews
So what IS the right way to respond to a negative review?
It's inevitable that your business will slip up at some point. Nobody's perfect.
You may accidentally charge a customer for a drink they didn't buy or send them home with the wrong takeout order, leaving a bad taste in their mouth (no pun intended). Your business may not even make a mistake and still receive a negative review from a disgruntled customer.
While you can't stop people from writing negative reviews, you can definitely respond to them in a thoughtful & authentic way when a complaint is made. People value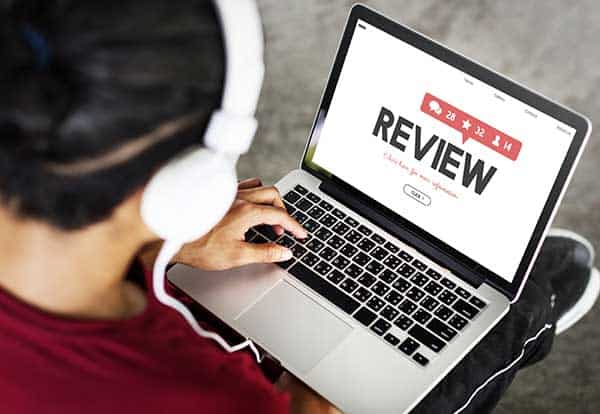 authenticity now more than ever. So be real. Be human. Show off the fact that your company isn't a thoughtless robot with no emotions.
People are sensitive during these insane times & just want to be cared about. You can even spin a negative review into a positive if you take the time to respond honestly and throw in a dash of creativity. Offer somebody that left a bad review another chance to engage with your company by giving them a free offer. You might be shocked when that 1 star review on Google becomes a lifelong, diehard disciple of your company.
"Think of each review as an opportunity to shine. It's a chance to show consumers you are listening, grateful for their patronage and are open to learning and improving. Even the dreaded one-star review can actually prompt a visit to your brick and mortar if the reply is crafted carefully and thoughtfully," said Tess Helmandollar, Chief Marketing Officer.
As evidenced by Tess, the team here at Gravity Junction has some serious reputation management chops as well as some tips on how to respond to negative customer reviews.
First Thing's First: Make Amends
Despite whether or not you think you were wrong, it's still important to acknowledge the customer's feelings and apologize for the negative experience they had. Being sympathetic and offering a simple, "We're sorry to hear about the issue you experienced…" can go a long way. By acknowledging the feelings of the customer you show that you not only care about the customer you're addressing, but all of your current and prospective customers.
Let The Customer Know You're Listening
While you don't want to be too wordy, addressing a customer's specific issue will make them feel heard.
If a customer thinks the line they waited in was too long, address it with a response like, "we pride ourselves on speedy customer service and we apologize we didn't meet those expectations."
"Fully resolving a problem online isn't very likely, and trying to may leave you vulnerable to more negativity," shares Gravity Junction CEO, Sharla Crawford. "Think about it. When was the last time you resolved an issue with anyone by going back and forth via Facebook comments? Privately communicating via email or phone is a much stronger tactic when it comes to conflict resolution."
If possible, offer an email address, a phone number and the name of a customer service rep or manager the customer can reach out to to resolve the issue.
As previously mentioned your response shouldn't be too long. While getting defensive & going off on a tangent might be the default response, the longer your response is the more you could be legitimizing the complaint. Three to four concise and well-crafted sentences should be more than enough. Keep it short and sweet.
Is It Ever Okay To Remove Or Prohibit A Review?
While the CRFA is in place to protect the honest opinions of consumers, there ARE a handful of cases in which it's okay to completely remove negative comments entirely.
When a consumer reveals confidential information like someone's medical or financial records.
The claim is libelous, obscene, or vulgar or disrespects other races. genders, sexual preference or ethnicities.
The claim has nothing to do with a company's offerings.
The claim is blatantly false.
It's discovered the claim was made by a business competitor.
It's discovered the same claim was made multiple times by one person using different accounts.
The Biggest Takeaways
As the truth becomes more and more important for savvy consumers & the FTC cracks down on businesses violating the CRFA, the importance of trust in your online reviews is critical. The next time you think about removing an unflattering customer review or even responding to one, make sure you're doing so respectfully, thoughtfully and in accordance with the CRFA.
Want to make sure your customer communications are always on point?
Reach out to Gravity Junction, where brands go SupaNova and let us help you rock your brand messaging!
References