As a full scale marketing and SaaS agency, we are always honored when we are nominated for a "best of" or a "top 10" list. We've been recognized by Clutch, and more recently by the Georgia Business Journal. What do these awards mean? Are they helpful? The short answer is, yes. Community or Best of awards can create valuable traction for your business in multiple ways.
You can VOTE for Gravity Junction HERE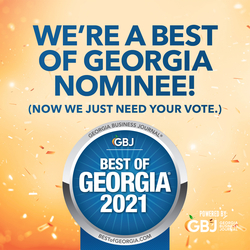 VISIBILITY
A key component of marketing in a digital landscape, and even in a brick and mortar business is visibility. While the location or signage for a brick and mortar business has been important historically, visibility online is largely more important today. Recognition from a popular business magazine like Georgia Business Journal, the BBB, or an online platform like Clutch provides a new avenue for visibility.
AWARENESS
Visibility leads to awareness. When a new client comes to us, the first thing we gauge is the visibility and awareness of their business or products. The questions become: 1. Are they being seen? 2. Does their target audience know who they are?
The 3rd party validation offered by a featured spot on a popular platform goes a long way toward establishing firm yeses for both questions!
CONSIDERATION
Once your business has been seen, and members of your target demographic are aware you exist, the next step in the marketing process is consideration. How do you get potential customers to consider your product or service? What are the factors that might help them choose you? Generally, we build campaigns that help people form an attachment to your product or service based on how either may benefit them. For example, you don't usually buy a product, you buy a result. Your favorite laundry detergent is connected to a feeling, a smell, a result more than it is the actual product.
When your business is featured in a Top or Best of list, you've been endorsed. Endorsement allows you to ride on the coattails of idealized benefits vs. ones you've marketed yourself.
All in all, if you have the opportunity to be featured in a Top of Best of list, we highly recommend it. Make sure you vet the platform, as there are some scams running around. These feature lists shouldn't cost money. At most, the platform may ask for you to promote the nomination as well as ask your followers to vote.
This is the case with our nomination to the Georgia Business Journal's Best Of list for 2021. We were nominated, (which is so nice), and now we will ask our friends, clients, and our Moms to vote for us!
Pssss … if you REALLY LOVE US you can vote for us every 24 hours 🙂
Work with an award winning firm who can make you WIN TOO!