Time.
Time is by far one of the most valuable resources we have as business professionals and crazy entrepreneurs. There never seems to be enough time in our day to get it all done.
The struggle is real, and I feel your pain.
We are the dreamers, driven to succeed, motivated to push the boundaries, and let's not be covert; we want to make piles of money and maybe even roll around in it like Uncle Scrooge McDuck.
But we are human.
We do get tired and sometimes even burnt out, though we would be hesitant to admit it.
I have positive and potentially unexpected news for you on this front, however.
Business Philosophies
"Talent wins games, but teamwork and intelligence win championships"  Michael Jordan.
You see, I do not doubt that you are talented and more than likely tenacious as hell to boot. Yet, relying on your talents alone in building or scaling a business will wear anyone out.
We know better than to rely on building wealth in such a linear fashion, exchanging only our time for money.
My talent and your talent will only go so far, so we have to turn to these two powerful business solutions: teams and technology.
Teams: Put People to Work
You know that your talent is what has brought you this far, and it's easy to think that if you only had a touch more talent, maybe in different areas, you could be playing at a different level.
However, I want to stress that to reach the next level, you should not be depleting your own time and talent. Right now is the time to start embracing OPT (other people's talent) by leveraging their ideas and time.
There's no shortage of great ideas. You probably have a shit ton of them, but who is helping you implement them?
We have to execute the big dreams floating around in our heads, and it takes OPT to make them a reality.
Managing people can be challenging. Probably not as challenging as running a billion-dollar corporation alone.  I'm not aware of a single successful business or philanthropic organization that is changing the world with the power of one lone human. It takes TEAMS to win.
More people, more talent.
More talent, more time.
More time, more success.
It's time to set the ego aside and the notion of "I have to do this all myself."
Achieving more success is around the corner, however, you'll likely have to build a team to do so. Even a virtual one will start you on the path of buying back some of your most precious time.
Technology for the Win, Freedom is Around the Corner
"If it's not leveraged, don't do it." John P. Gardner
To some, technology can be intimidating. You're in the world of business, so I know you are down for some personal and professional growth, even if it's a little scary.
From here on out, let's look at technology as just another team member. This team member takes little training and is programmed to do the precise things you require.
Integrating technology into your organization can expand possibilities, streamline processes, enhance the customer experience, and beyond.
Technology can be your most well-trained team member. This takes the concept of leverage to an entirely new level.
Technology & Automations
Living in the digital age, there's no shortage of software to choose from. The real question is can you work with existing software or do you need a custom solution?
Although there may be a short learning curve with any new software you are utilizing, there is no learning curve for the software itself. Unlike the multitude of hours it takes to train a team member on any given process or task, your software just needs to be told once what to do, and it's off and running.
Business Processes to Consider Using Technology & Automations
Before deciding on new time-saving technology, it's important to map out your current processes, workflows, and requirements, so you can incorporate the correct piece(s) of technology to meet your business needs.
Below is a shortlist of potential processes you have in your business right now that you could consider beginning to use technology for.
Onboarding new employees
Lead generation
Proposal process
Follow up after sales process
Customer service processes
Training processes
As I sit here writing this article, I recall how an auto dealership I recently purchased a vehicle from capitalized on some useful and helpful technical and automation integrations.
My vehicle had a recall, to which my dealership's mobile app initially alerted me. I didn't have to keep up with the manufacturer in any way, nor did I have to rely on reading a potential email that got lost in the shuffle.
I got a simple notification, a popup, on my phone.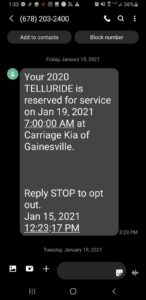 My trustworthy and incredible office manager got the car scheduled for repair. Within minutes I got a text letting me know my appointment was scheduled.
At my scheduled appointment time, I made it to the service department. Alex, a kind and informative employee, checked my car in personally. He soon drove my car back to the mechanics, and I snagged some coffee and set up my laptop to do some work in the waiting room.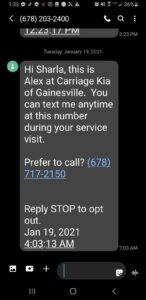 By the time I sat down, my phone pinged with a text message from Alex.
This text message was great for someone like me, who had two hours of straight meetings. It would have been super inconvenient if I needed to walk back and forth to the service desk for continual updates. This texting capability allowed me to keep my mobile office set up, continue working, and communicate with Alex with ease.
I eventually left the dealership's service department, and the next day I got an email requesting my feedback on how my customer service experience was.
This is a perfect example of how technology can enhance the customer experience.
Aside from providing excellent customer service, technology and automation can be game-changers when it comes to expanding your team.
Expand Your Team Using Technological Integrations & Automations
Building a team out requires much time, paperwork, and typically training. It's easy to get consumed in the laundry list of to-do's, ensuring your team member is well trained. Being hyper-focused on these to-do's often depletes the time for deepening interpersonal relationships and may negate creating high-touch moments entirely.
When instituted properly, technological integrations and automation can free up your time in such a manner that you will be able to build deeper relationships and create more of those high-touch moments.
So let's start to outline how you could leverage yourself in building your team out.
Instead of pulling your new employee in a room for hours, walking through handbooks, and getting HR documents signed, you can use technology and software to absorb much of this burden.
Easily share onboarding information:
Shoot a series of short videos articulating all the messages and training you would need a new hire to know.
Use your phone, computer webcam, or systems like Zoom or Camtasia to record your videos.
Upload those videos to YouTube or perhaps Vimeo.
Take care of HR requirements.
Upload the HR documents into a system such as DocuSign, RightSignature, HelloSign, or your preferred digital signature platform.
OR
Use a comprehensive piece of HR software that allows customization and directs each employee to go through the steps you need them to complete, without the need of a human directing them. There are some awesome HR software options to choose from, like BambooHR, Paycor, Workday, and beyond. Some of these systems even provide a payroll module.
Regardless of which HR method you choose, any of these methods can get er done!
But let's take it up a notch. Let's see how we could automate those moving pieces so they work beautifully together!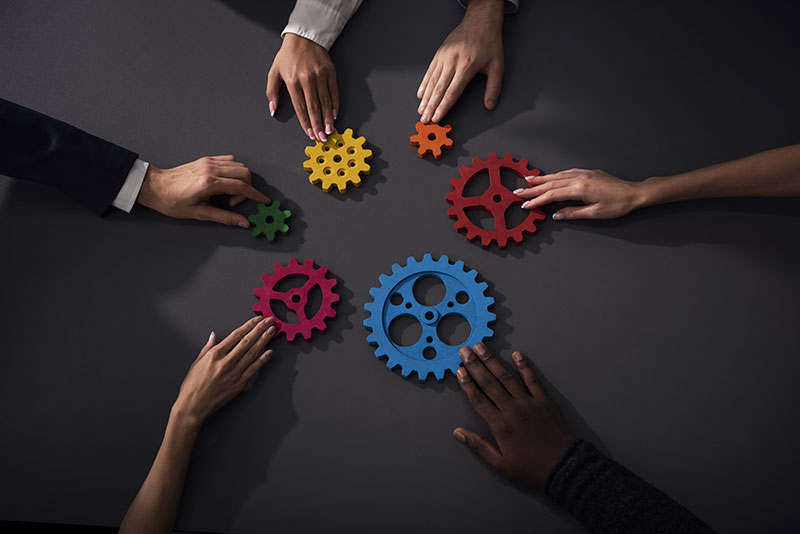 First things first: ZAPIER is the KING of automation if the system(s) you use don't have automation integrations built-in.
Zapier natively connects to thousands of pieces of software, many of which you may be using right now. Quickbooks may be your bookkeeping software of choice. Even if it's not, go with me for a moment.
Your new hire fills out a Google Form with basic contact information.
Zapier is then triggered to pull that contact information and inject it right into your Quickbooks account.
This triggers Zapier to send out a welcome email containing the links to your YouTube onboarding training videos.
AT THE EXACT SAME TIME, Zapier will also communicate with your digital signature software and send your new employee the HR documents needed for their review and signature.
Once the HR documents are finalized, Zapier is triggered once again to send out another email. This time, outlining details on where to go and who to meet on the first day of work.
This could complete the series of automation that could otherwise go on for days, weeks, or months.
Note that the single task that triggered these five items was a simple and FREE tool, Google Forms.
In this scenario, once that employee shows up for work, all the time-consuming, paper-pushing tasks are behind everyone. It's time to now answer questions and begin building relationships.
This is just one of the millions of ways software and automation can enhance your business, productivity, throughput, and work quality
Software isn't perfect, but it is more reliable than humans. AND, software doesn't take sick days, complain, or talk back. It just WORKS.
Software works on your behalf and on your business's behalf.
Finding Balance: Humans & Technology
Before all the technology options we have today, it's been the normal inclination of a hard-working entrepreneur to take on every single position themselves, quickly to realize that they can't do it all.
Technology is NOT meant to replace humans, but rather assist them by working hand in hand with them and leveraging tasks that don't absolutely need or require a human to be involved.
Technology is leverage.
Technology leverages time, money, energy, and effort. Technology and automation can create the necessary space for deeper human interactions, and dare I say, create space for you to get a break!
The old adage of "work smarter, not harder" has never been easier to accomplish than it is now. When you take advantage of programs like Zapier, Workday, DocuSign, or one of the thousands of other options available, you're instantly freeing up precious time.  This time could be used to grow your business, hire new staff, and eventually roll in piles of cash, just like Uncle Scrooge McDuck.