How the heck does one show themselves some love when it comes to their mental health during a pandemic?
Technology gets a bad reputation when it comes to mental health, and multiple statistics serve as evidence of the truth in that statement.
However, extremism is never a great look. Nothing can be ALL good or ALL bad. Without technology, man wouldn't have reached the moon. Without medical watches, patients wouldn't be able to track important things like their blood pressure or heart rate. Without modern technology, those with Parkinson's disease wouldn't have access to the technological advancements that have been made in cutlery that allows them to eat with a steady hand. Digital solutions have been revolutionizing the healthcare industry and our quality of life now more than ever.
Without technology, we would be less healthy in a million ways.
Who's to say we can't take care of ourselves with the incredible apps or accessories around us, instead of abusing our screentime with mindless comparison or vegging? How can we connect with our online community a healthy amount instead of hours on end?
To celebrate tech–because GJ loves tech–here are five incredible tools to manage your mental health during COVID-19!
1. Muse Headband
DESCRIPTION
Muse is a wearable brain sensing headband. The device measures your brain activity with four electroencephalography (EEG) sensors (try saying that 5x fast) and gives you real-time feedback to improve your meditation practices. Let's learn how the Muse headband can help you balance your mental health during a pandemic.
FEATURES
InteraXon currently sells the Muse 2 and the Muse S. The Muse 2 is the latest version that helps with meditation, while the Muse S helps with both meditation and sleep.
Muse 2
Mind Meditation (EEG)
Heart Meditation (PPG + Pulse Oximetry)
Body (Accelerometer)
Breath (PPG + Gyroscope)
5 Hours of Continuous Use (Rechargeable Li-Ion)
1 Headband, Multiple Users
Wireless Connection: BT 4.2
MicroUSB port (cable included) and LED Indicator
Muse App Compatibility (iOS 11, Android 5 or higher, Huawei devices not supported)
Guided meditations with subscription to Muse App
Muse S
Has all of the above features as well as
Sleep Soundscapes – Decompress with responsive nature soundscape that will relax your mind + body (EEG + PPG + Accelerometer)
Sleep Journeys – Experience relaxing voice guidance with a responsive soundscape to ease you into restful slumber (EEG + PPG)
Sleep Guidances – Led by professional instructors on various sleep techniques and topics (EEG, PPG, and Accelerometer)
Sleep Tracking – Get overnight sleep tracking feedback, including a sleep efficiency score and sleep stages and positions (EEG, PPG, and Accelerometer)
If neuroscience isn't exactly your thing, and you'd like to take your learning further, here's Muse's "How It Works" section.
BENEFITS
Improves mental + physical wellness
Makes meditation more approachable and easy to learn with rewarding and long term practice
Research has documented increased grey matter density, decreasing amygdala activity (which is associated with stress response), reduced thinning of the prefrontal cortex, and increased resilience
In other words, an overall positive change of the brain's structure + function
16% decrease in stress in just four weeks
To read about more benefits, head over to their website! That stress decrease speaks volumes when it comes to finding ways to manage your mental health during COVID-19.
DESCRIPTION
The Calm app focuses on sleep aid, meditation, gentle movement, music, and stretching to help you sleep, relax and focus. Apple named the app "App of the Year" in 2017, so you know it's a good one.
FEATURES
Daily Calm – !0 min guided meditations related to different focuses of mindfulness such as sleep, stress, and anxiety
Sleep Stories – Calming bedtime stories feature celebrity narrators like Harry Styles and Matthew McConaughey, or if music better tickles your fancy, that's an option, too
Mental Fitness – This includes a series teaching about mindfulness. You can listen to one led by LeBron James or even start a 30-day program
Quick & Easy – Handful of short, easy meditations with specific concentrations
Calm Masterclass – Programs led by renowned mindfulness expert
BENEFITS
Digital solutions that positively impact focus
Improved decision-making
Helps users get better at paying attention without losing focus
Betterment of mood, including happiness and control of irritation
Online community
DESCRIPTION 
Focus@Will is a music service app that helps control (Attention deficit disorder) ADD by combining neuroscience and music. This leads to a boost in productivity and helps to tune out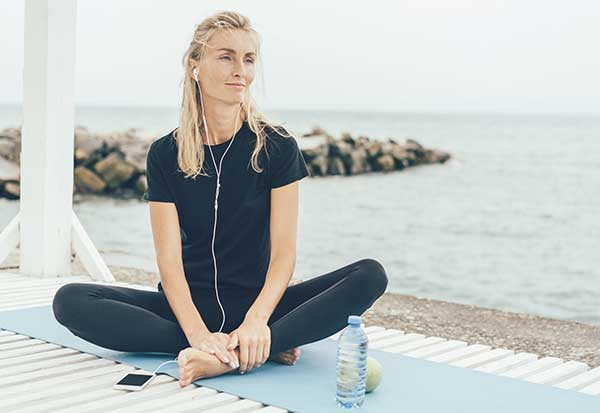 all of those distractions trying to steal your attention.
FEATURES 
Thousands of hours of unique tracks
Backed by neuroscientists
Created by platinum-selling music producers as well as scientists and musicologists
Exclusive music created for focus
Based on seven years of research, data, and science
Changes according to your behavior
Designed to keep you focused for up to 100 minutes
Compatible with iOS, Android, and Sonos
BENEFITS
Studies show that there is a 200-400% increase in focus time with Focus@Will's most active users
Improves your productivity by 4X while working or studying
Help you make better use of your time
Reduce distractions from noisy environments
Timed work sessions mean creating a sustainable work schedule and developing good habits
DESCRIPTION 
Breathe2Relax is a stress management tool that you can take with you. The app provides detailed information on how stress affects your body and practices to help you better manage it through diaphragmatic breathing. Maintaining mental health during a pandemic is no easy feat, and we could all benefit from slowing down and breathing more often.
FEATURES 
Audio coaching
Progress tracking
Instructional text and videos
Preference settings allow for a customizable experience that is more personal to you
BENEFITS
Mood stabilization such as anxiety management and anger control
Decrease the body's fight-or-flight response
Designed specifically for mental health
5. ZenZone Virtual Reality App
DESCRIPTION
ZenZone is an intelligent brain-training app designed to interactively help improve brain fitness. The training varies from guided mindfulness, attention training, and brainwaves.
FEATURES
Reduces stress
Increases self-discipline, attention, focus, and Control
Helps maintain a positive attitude
Calms and controls your gut
BENEFITS
Access a state of total concentration
Media clips delivered a d selected based on meditation and attention levels
With practice, the strengths gained from the app can be applied to your life and transform your ability to learn and adapt
Instant visual feedback of your state of mind
Personal results so that you can track brain fitness levels in real-time
In closing
Painting tech as the bad guy or villain is doing yourself and the world a disservice. Why not instead take a deeper look and see if possibly human nature is the thing at fault?
Yes, tech is affecting our attention spans and mental health. So, why not play to its strengths and harness its power by using the monster itself to BETTER your own life.
After all, you turn the machines on and off, right? Put the power back in your hands and the ball back in your court!
These five tools are a great start to get your mind focused, brain flexed, heart stabilized, sleep deep, and mood positive. Your mental health during COVID-19 is everything!  Digital solutions can do so, so much good.
Enjoy! We're here for you. Let's connect and build a healthy online community.