A chief marketing officer's job is never done. Chasing and fighting for your client's attention is a race that never slows down and is ever-shifting. You are no longer up against just your direct competition. Marketing efforts are made 24/7 by brands that make way more noise and in way more places than you. There's only so much attention your clients have. They're either seeing your brand or they aren't, they are either buying from you or not. This makes the role of a chief marketing officer (CMO) increasingly more critical to the bottom line in this noisy world of technology and content we are living in.
But what if you don't have a CMO?
You aren't alone!
If you are a small business owner, you certainly wear dozens of hats, and marketing usually gets shoved down the list of to-dos. At the same time, you know how critical marketing and advertising is because it feeds sales! There's just often not enough time in an entrepreneur's day to get it all done. Then it's time for outsourced cmo services and marketing leadership.
Breaking Down Parts of Business
When you break business down into its simplest and primary elements there are three main areas:
Sales & Marketing
Creation & Delivery of Products/Services
Billing & Collections
These segments of business have to be well operated to achieve success.
I already know you've got #2, "Creation and Delivery of Products/Services," and #3, "Billing and Collections," handled. You may even have a sales process you personally use, or maybe you even have a team.
It's pretty safe to say, if you've stuck with this article thus far, you know your marketing efforts just aren't where you want them to be.
Acknowledging this is as important as realizing you need the internet for your computer to do much of anything. It's now just a matter of figuring out how you can get this aspect of your business handled on a consistent basis.
NO, this doesn't mean you have to, as a small business owner, put on yet another damn hat. It means you need to rely on the expertise of someone who can make it happen for you.
Still not sure you need to staff a marketing department, marketing executive or have a chief marketing officer?
Let's take a gander at that together!
How Do You Know You Need a Chief Marketing Officer?
You don't know the difference between sales and marketing, or you think they are the same thing.
You are tired of doing all the marketing yourself.
Your marketing interns aren't cutting it.
You want to escape your warm & referral market and dip into the frigid waters of cold leads.
You are hiring different vendors to help with all things marketing & advertising yet nothing is working cohesively.
You want more leverage in your life.
You are launching a new product line.
You have hit a peak in your sales and want to take it up a notch.
You want to expand into new marketplaces.
Established Need for Marketing Services
If you identified with one or more in that list, you are indeed in need of a CMO to help grow your brand.
Now, I know what you are thinking:
Where do I start?
How much will this cost?
Both valid questions.
First you have to identify who you are as a business owner!
There are 5 types of small business owners…
Those who don't think they need a CMO.
Those who want a CMO, yet will not do anything about it.
Those who may already have a marketing person(s) or CMO.
Those who outsource marketing & CMO services and are willing to pay a lower price for mediocre output and less than optimal results.
Those who are out of the box, resourceful, and are just looking for the right team at the right price point.
Well if you fall into 1-4, the rest of this article isn't for you.
BUT, if you are #5, we have you covered!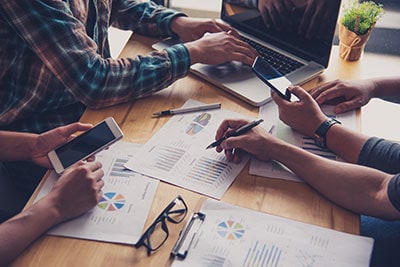 Marketing Consulting Firms To Your Rescue
We know your business is a part of your soul. You've poured everything into it and want it to be a winner on all accounts.
We also know how draining business can feel, like when you know you have a great widget and wonderful pricing, yet the sales just aren't where you want them to be.
This is where marketing consulting firms can be a great option.
Relying on the professional services of marketing consulting firms can relieve the pressure and gain traction, without the expense of employing an entire team in-house.
Calling upon a marketing consulting firm for all your marketing doesn't mean you've failed.
It means you don't need to expand your payroll or office space. You don't have to become an expert content creator or understand how lead generation funnels work. You don't have to fret about becoming an expert at social media management or google ads…or even managing your social media. When using a marketing consulting firm and/or CMO services, it's all done for you.
Not All Marketing Firms Are Alike.
Some marketing firms may specialize in a certain area or two of marketing and advertising, like social media and reputation management. This means if you need an ad campaign, which requires new landing pages on your website to support the campaign. Additionally, you need new packaging designed for your new product line, you may end up having to hire multiple firms. This can become costly and challenging to manage.
This is why we've found working with marketing firms that offer CMO services and can coordinate and produce all types of content and collateral needs themselves, is the best bet.
Using the services of a CMO consultant is like hiring another you. Someone who will dig in deep, understand your goals, lay out a plan they feel deeply responsible for, and make it happen. They are your ring leader, of sorts.
Going this route and working with a marketing firm with CMO services, can reduce frustration, amplify results, and be cost effective. A firm with CMO services may have many of the marketing services you need in house, but the nice part is, if they don't, they will help find and manage outside providers. They are there to ensure the goals are still met in the plan they laid out.
Small Business Marketing Consultants – They Exist & Can Fit Your Budget
This is precisely what the SupaNova Team here at Gravity Junction does.
We are the one-stop-shop to help you, not only generate a marketing plan, but also to execute on that plan, just like an internal CMO would.
We manage your brand's existence both in the digital space and in person.
We are a boutique firm that manages it all for you, from start to finish and then some.
More that half of our staff are prior entrepreneurs. We know the struggles of taking care of all parts of business and the time and money constraints that you are constantly battling. We take that marketing "hat" off your shoulders.
What a relief!
We may just be one of the only firms that caters to businesses under the $10,000,000/year space. Typically, CMOs and full marketing departments would be reserved for the mega wealthy and for those brands who are already widely known, but what about those that deserve to be known, who deserve higher visibility and increased sales?
Welcome to all that is Gravity Junction.
Full-Service Marketing Services Under One Roof
"It's not hocus-pocus, it's just focus."
No, we aren't magicians, but we do make magic happen for your brand. We specialize in CMO services and have an entire marketing team, web development team, and software team, working succinctly to bring each marketing plan to life.
One hand talks to the other, ensuring the execution of the marketing strategy is cohesive and runs like clockwork.
We are the SupaNova team that focuses on your brand as much as an internal team would.
We may not be in your office daily, but we are working on behalf of your brand daily. Through our robust communication and detailed reporting, you'll be able to monitor progress along the way while focusing on other areas of your business.
Every day, we focus on better positioning of your brand in the marketplace. We create campaigns for both brand awareness and lead generation. Building up and interacting with your target market, is a core objective, as is protecting and growing your brand, digitally, and belly to belly.
We love the game of advertising and marketing and are nerds in that regard. Nothing brings us more joy than being a small part of your brand's success. We live and breathe it every day.
We push the bar, never putting your brand in a box. We believe every business is unique and deserves a customized marketing plan.
You won't see packaged pricing on this site because you aren't working with software, you are working with real people. We care deeply about your business and will customize a plan that is just right for your business and pocketbook.
We aren't egotistical to think that we will get the opportunity to work with every business out there; but as believers in capitalism and free enterprise, we do hope you make the concerted effort to work with an agency that can help your brand gain traction, expand and even dominate.
Enlisting the professional guidance of a CMO consultant and utilizing the skills and talents of marketing experts could be the last key you have been looking for to unlock your potential.
CMO Services & Full-Service Marketing is WITHIN YOUR REACH!!!